CHURCH TEACHES FORUM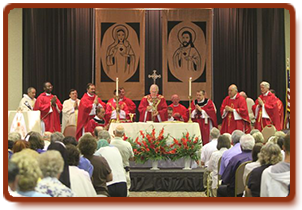 Our annual CHURCH TEACHES FORUM, a major Catholic conference, is held each year in Louisville.
Cardinal Arinze, Bishop Bruskewitz, Bishop Finn, Cardinal Sanchez, Mother Theresa, Cardinal Gagnon (2007), Mother Angelica, Archbishop Burke, Fr. Frank Pavone and Father Tadeusz Pacholsczyk are a few of the many guests who have spoken at the Forum – solidly faithful members of the Catholic hierarchy and Church.
Eternal Life Presents
THE CHURCH TEACHES FORUM 2013
902 W Stephen Foster Avenue • Bardstown, Ky 40004 • 800 842 2871 • wjsjmj+bardstowncable+net
July 12th and 13th, 2013
at THE GALT HOUSE – GRAND BALLROOM, second floor.
141 N FOURTH STREET • LOUISVILLE, KY 40202 • 1 800 843 4258 • FAX (502) 964 0623
Check out the flyer for the Church Teaches Forum here.
Purchase tickets for this event here.