William J. Smith, in cooperation with Father John A. Hardon, S.J., founded Eternal Life in 1989. Abbot Edmund F. McCaffrey, Ph.D., was a Spiritual Director of Eternal Life since its inception, and served in that capacity until his death. Raymond Leo Cardinal Burke, is also Spiritual Director of Eternal Life, as is Father Roger Arnsparger of the diocese of Charlotte, North Carolina.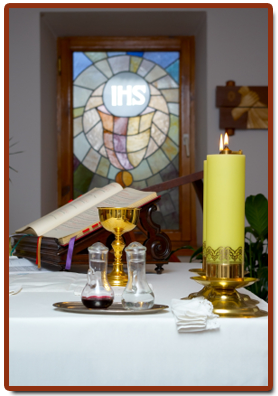 His Eminence Cardinal Burke has been appointed to take charge of the Cause for Canonization of Father Hardon.
Eternal Life was formed to educate Catholics in the full teachings of the Roman Catholic Church.
Polls and surveys in the 1980's reported that a large percentage of Americans who claim to be Catholic were abysmally ignorant of the teachings of the Roman Catholic Church. Many reasons were given, but one basic cause was a failure to know and understand the faith and its teaching on pro-life matters. This has been one of our areas of concentration.
Our first project, the publication of prayer cards, booklets and brochures, resulted in millions of individual units being distributed throughout the United States and Canada. Premium quality audio tape albums consisting of full semester, graduate level courses on twelve digitally-mastered audio tapes have been produced since the mid 1990's. These are now available on MP3 discs – a compact disc of the highest quality, and lower priced. The lectures were given by the preeminent theologian and catechist, Father John A. Hardon, S.J., (d. December 30, 2000) who was also Spiritual Director of Eternal Life. As mentioned above, Father Hardon's Cause for Canonization has been officially opened.
Solidly Catholic books and pamphlets have increased in production and sales. Books, dictionaries, prayer books and catechisms have been added since 1997, all by Father Hardon. Conferences held all over the United States have also been very successful in aiding a substantial number of Catholics who want to know and understand their faith.
Our annual CHURCH TEACHES FORUM, a major Catholic conference, is held each year (usually in July) in Louisville. Cardinal Arinze, Bishop Bruskewitz, Bishop Finn, Cardinal Sanchez, Mother Theresa, Cardinal Gagnon (2007), Mother Angelica, Raymond Leo Cardinal Burke, Fr. Frank Pavone and Fr. Paul Check are a few of the many guests who have spoken at the Forum – solidly faithful members of the Catholic hierarchy and Church.
May they have Eternal Life:
Father John Anthony Hardon, S.J.– June 18, 1914 – December 30, 2000 (3:23 pm)
William Joseph Smith, July 12, 1915 – April 26, 2003
Fr. Edmund F. McCaffrey, January 9, 1933 - November 13, 2016