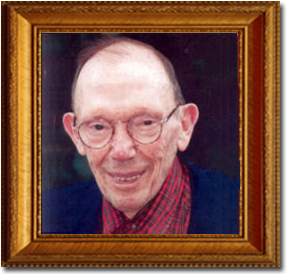 WILLIAM J. SMITH
July 12, 1915 – April 26, 2003
Born in Bardstown Kentucky on July 12, 1915
Served in U.S. Army - Respected businessman – Faithful & devout Catholic
Founder-President of Eternal Life
A Reflection on The Life of William J. Smith
By Rev. Edmund F. McCaffrey, Obl.S.D., Ph.D.
William J. Smith deeply impressed me from the first time I met him at a Cardinal Mindszenty Meeting in Saint Louis. I have never met a layman as dedicated to the Church and to her teachings as Bill Smith. Bill was small in stature, a little bent, but was a dynamo of strength - both spiritual and physical. He knew how to get things done. Sloth was not part of his being or in his vocabulary.
He founded and organized Eternal Life conferences for Father John Hardon, S.J. and myself, around the nation, and I always worried about a small turnout: that never happened! Bill and his "slaves" always turned out a full house. A little man, a computer, his faithful "slaves", a saintly zeal and a guardian angel, accomplished much for the Church. He loved his guardian angel and credited the angel for any success.
I have been fortunate to know saintly people: Cardinal Cooke, Archbishop Fulton Sheen, Father John Hardon, S.J. and Mother Theresa – all clergymen or religious. Bill Smith should be numbered with this holy company as he was the most devout, humble and holy layman I have ever known. Someday I believe he will be raised to the altar and be called The Saint of Bardstown.
He loved the Eucharist and wore on his coat a little monstrance pin. On the other lapel was the rose of life, symbolizing his fight for the millions of unborn, murdered by abortion. Bill arose early each morning and opened the Proto-Cathedral in Bardstown to make his holy hour. The altar and tabernacle were central to his life; he was truly an altar lover and a tabernacle hugger.
Bill was a leader in the Right To Life movement in Kentucky and realized that the fight was not just against abortion; he was well aware that contraception was the doorway to permissiveness, sexual deviation and abortion.
Bill proclaimed the teaching of the Church forcefully, but like John Paul II and Mother Teresa, with humility and charity. When Bill saw serious abuses in the Church he did his duty and pointed these out with humility. Sometimes he was rejected and ridiculed and, yes, even persecuted! Have not all great saints suffered this? Bill was in good company when rejected. He understood the teaching of Jesus that even the smallest part of the law was to be obeyed and respected.
I joked with Bill by calling his secretary and volunteers "slaves" and giving him the title of "slave-driver". In reality he was a loving servant to all and treated all as Christ. The zeal for building up the kingdom of Christ on earth consumed him. When I kidded him as "slave-driver," I knew in my heart he was a slave for Christ.
Bill's love for Jesus and His Church led him to love Jesus' Mother. His love for Mary would rival any saint. It was Bill who introduced and brought the Pilgrim Statue of Our Lady of Fatima to homes in the Bardstown area. It was Bill who organized and founded the yearly Rosary Rally in Bardstown, bringing in distinguished speakers. The rosary and Bill were inseparable and, like John Paul II, the rosary was his favorite prayer.
There were many nights before a conference that Bill called me up to his hotel room to lead the rosary. The statue of the Immaculate Heart held center stage at every Conference and Bill's heart was united to hers.
When Bill retired from business he devoted his entire energy and fortune to spreading the authentic teaching of the Church, as proclaimed by the Holy Father and The Catechism of the Catholic Church. He founded Eternal Life and The Church Teaches Forum to do this, and he supported and served on the boards of The Institute on Religious Life, Catholics United For Life, The Cardinal Mindszenty Foundation, and other groups that are faithful to Church teaching. I would call William J. Smith a faithful lay Catholic par excellence. His life was devoted to spreading the Word of God, for he knew that His words lead to Eternal Life!
One will never know the countless charity of Bill Smith. He helped support many individuals, clergy, and religious, and his generosity to those in need is only known in heaven. He responded to every legitimate request and never demanded an IOU. William Smith was little in the sight of man but must be great in the sight of God. He could have lived in rich splendor but chose to live humbly, giving all of his physical and material assets to promoting the teachings of Christ and His Church. Proud clergy, religious and laity sometimes ridiculed this Saint of Bardstown, but when I reflect on his life the words of Augustine ring out: "Pride made angels into devils, but humility makes men as angels."
Bill had the humility of Jesus, Mary and Joseph. Let us all pray that God and the Church will quickly raise him to the altar of the Blessed. Because of his love for God and the Church I truly believe that someday all generations in Bardstown will call him Blessed.
Rev. Edmund F. McCaffrey, Obl.S.B., Ph.D.
President of Eternal Life
Former Abbot-Ordinary of Belmont Abbey