CHURCH TEACHES FORUM (Cancelled)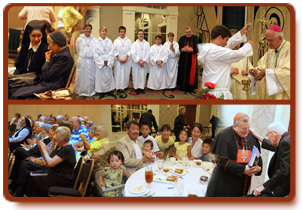 Dear Friends of the Eternal Life Apostolate and The Church Teaches Forum,
Praised be Jesus Christ!
I pray all is well with you and your loved ones. As you know, the Covid-19 virus pandemic has caused so much difficulty for so many across our Country and the world. Our prayers are so needed for each other in these days.
As a result of this situation, the Board of Directors for Eternal Life has decided to cancel The Church Teaches Forum for July 17 and 18, 2020. We will miss seeing all of you and hope that we can plan an event in the future. It is always so good to see all of you and to celebrate our Holy Faith.
Please be sure to use the resources available from Eternal Life to continue your study, prayer and practice of the Faith. God bless you and may our Lady keep you in her tender care.
With prayers and gratitude,
Fr. Arnsparger and the Board of Eternal Life