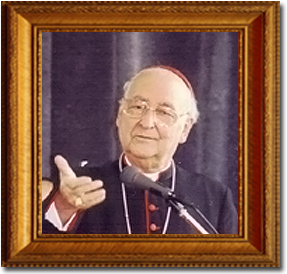 In Memoriam:
Edouard Cardinal Gagnon, P.S.S.
January 15, 1918 – August 25, 2007
An honored friend of Eternal Life whose faithful assistance, spiritual guidance and deep knowledge and understanding of the faith, were a great gift to the growth and work of Eternal Life.
Commendation of Edouard Cardinal Gagnon to Eternal Life:
I consider it as a great gift of the Lord, the fact of having put me in contact with Eternal Life. I was a witness of this Church endeavor when I was President of the Holy See's Pontifical Council for the Family.
The first session I attended showed a great sensibility to Pope John Paul II's love and care for the family. I soon found out that under the guidance of Father Hardon and the quiet dynamism of Mr. William Smith, it has grown and developed into an irreplaceable Forum to recall to the faithful Catholics their mission as lay people responsible for the presence of the Church in the midst of all the problems of the day.
The active role of voluntaries and the imagination of competent people, generous with their time and talents, has made Eternal Life a central point for the diffusion of Catholic doctrine, sure of itself in it's fidelity to the Roman Pontiff. The books and other documents provided by Eternal Life or distributed by it, are among the most precious instruments that can contribute to the intellectual, spiritual, and apostolic formation for lay people who love Christ and His Church.
Edouard Cardinal Gagnon
President Emeritus of the
Pontifical Council for the Family and of the
Pontifical Committee for Eucharistic Congresses
Cardinal Gagnon was ordained a priest on August 15, 1940 in Montreal. He earned a doctorate in canon law from Laval University (Quebec) in 1944, participated as a peritus in the Second Vatican Council and was a major superior of the Sulpicians of Canada, Japan and Latin America. In 1969 he was named bishop and three years later was nominated rector of the Pontifical Canadian College in Rome. His Excellency was appointed President of the Committee for the Family by Pope Paul VI and headed the International Conference on Population in Bucharest in 1974. He was president of the Pontifical Council for the Family from 1985 until 1990 and from 1991 until 2001 held the position of president of the Pontifical Committee for International Eucharistic Congresses.
In May of 1985, Pope John Paul II proclaimed him Cardinal. Until his death in 2007, Cardinal Gagnon held many positions of responsibility and authority within the Catholic Church. Eternal Life is most grateful that His Eminence so generously shared his love of God with us. Even after being confined to a wheelchair, he made the difficult trip year after year from Montreal to Louisville for the Church Teaches Forum. His Eminence Edouard Cardinal Gagnon died on August 25, 2007. May he rest in peace.