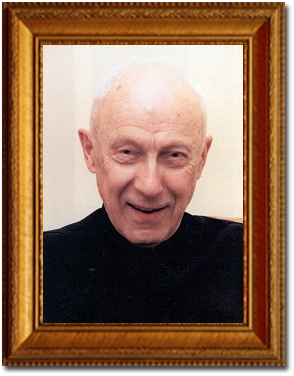 REV. JOHN A. HARDON, S.J.
June 18, 1914 – December 30, 2000
Entered Society of Jesus – September 1, 1936
Ordained to the priesthood – June 18, 1947
Co-founder and Spiritual Director of Eternal Life
Father John Hardon was a holy and humble priest, an intellectual giant, a perceptive student of our times and one who placed the highest importance on the truths taught by the Catholic Church. His birth in 1914 was a gift for the Twentieth Century. His intellect, his holiness, his priestly life, his suffering and his spirituality have undoubtedly gained untold blessings, not to be known until eternity.
Around 1980, the Holy See asked Father Hardon to organize a catechetical training program for Mother Theresa's Missionaries of Charity. Later Father Hardon founded an association, the Marian Catechists, so that any committed Catholic could benefit from these same training courses. He also provided comprehensive and indispensable guidelines for a member's spiritual life, produced and published by Eternal Life in the Marian Catechist Manual (see catalog to shop online). By diligently following its precepts, one can not only be protected from the wiles and snares of the world, the flesh and the devil, but can also become holy and heroic.
"We are living in the most critical century in Christian history." *
As the Marian Catechist Manual makes clear, a Marian Catechist's mission, active or contemplative, is to re-Christianize his or her little corner of a now-pagan America.
"Speak the faith – talk with everyone; a word here, a sentence there.
We speak what we believe."*
Mother Theresa's Missionaries of Charity, all of whom have taken the course, give us some idea of the tremendous potential of the Marian Catechist Apostolate, when reinforced by the Home Study Courses. In Calcutta alone her Sisters have over 20,000 under instruction!
…Anyone, Marian Catechist or not, may take the courses, though membership is encouraged. The courses are ideal for the training of catechists in parish religious education programs and for anyone interested in deepening his or her understanding of the Catholic Faith.
Father Hardon urged us to:
"learn and live the faith; speak, write and teach it; coordinate, cooperate, and organize without competitiveness, and suffer and endure all the trials and tribulations that can be expected when spreading the truth in a pagan society."*
Father John A. Hardon, S.J. and William J. Smith, co-founders of Eternal Life, worked diligently and tirelessly to teach the Faith. They recognized the potential of conversion and evangelization through the use of the Marian Catechist Courses.
In the course of time, as the number of active and contemplative Marian Catechists increases and multiplies in your locality, serious consideration should be given to praying and working together. This can open up further vistas of growth and even greater potential.
"The 20th century, by any classification, has been the most sin-laden century in human history: more abortions since 1900 than all the centuries of human history put together – more breakdown of family life – more Catholics have abandoned their faith." *
Father Hardon also specifies three graduate level, full semester courses in the form of lectures on twelve audio tapes in a beautiful album; (now, also available on mp3 compact discs, twelve hours of talks on one disc) for continuing one's education and formation. They are: Profession of the Roman Catholic Faith; The Sacraments and the Marian Catechist; and The Ten Commandments. (See catalog to shop online).
"We live in the most highly educated nation in world history. But, except for a small remnant, most Americans are abysmally ignorant of God's laws and His promises." Fr. Hardon*
* These quotations are taken from a talk given by Father Hardon on July 12, 1998, at Eternal Life's The Church Teaches Forum, the annual conference held in Louisville Kentucky. Conditions since that time and into the 21st century can only be described as dramatically worse.
Excellent catechetical materials by Father Hardon are available through Eternal Life, as Father Hardon worked so diligently to provide Catholic teaching that is at once completely faithful to Holy Mother Church, clearly presented and easily understood, while not 'dumbed down' in language or style. It is our great fortune that we are able to access these materials, tapes, books, pamphlets, etc, in order to know our Faith, and to share this knowledge with others. Let us use these wonderful gifts for the salvation of our own souls, and for the souls of family, friends and all our brothers in Christ.
*From audio tape "THE MARIAN CATECHIST APOSTOLATE", by Fr. John Hardon: The Church Teaches Forum, 1998