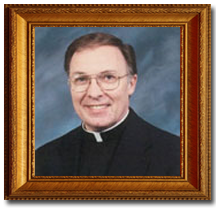 Reverend Roger Arnsparger

President of Eternal Life
Diocese of Charlotte: Vicar of Education, Pastor of St. Michael's in Gastonia and Vicar of the Gastonia Vicariate in the Diocese of Charlotte; Director of Diocesan Eucharistic Congress
Born in Covington Kentucky, Father Arnsparger was ordained in 1977 and taught in Catholic High Schools for 14 years. Father's great zeal for sharing the true Faith through the years is apparent in word and action, and sums up his identity as a Catholic and a priest.
Father has posed this question to himself; "Will the students I taught be better off because they had me as a teacher?" He also challenges us to ask the same question of ourselves in regard to those who travel the same path, even if only for a little while, through our lives in this earthly journey.
Eternal Life is most grateful to Father Arnsparger for his generosity in time and action. Always taking the time and energy to give crowd-pleasing and soul-pleasing direction in his talks for The Church Teaches Forum, always giving when called upon, we thank Father for his outstanding kindness and his willingness to give so much.