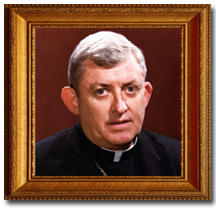 REVEREND EDMUND F. McCAFFREY,
OSB, Ph.D.

January 9, 1933 - November 13, 2016
Co-Founder of Eternal Life with Fr. John A. Hardon, S.J. and William J. Smith
President of Eternal Life 2005-2011
Father McCaffrey, former Abbot Ordinary of Belmont Abbey, Charlotte, N.C., is a Political Scientist, a Scholar, Writer, Lecturer, Retreat Master, Educator, Defender of the Faith, Promoter of Devotion to the Angels, a strong exponent of Marian devotion and extraordinary defender of the sacredness of human life. Father has been a Spiritual Director of Eternal Life from the beginning. His cooperation and leadership have helped Eternal Life become the spiritually strong and faithful apostolate that it is, giving conferences and retreats, guiding its members and offering spiritual direction. With co-founders Father John Hardon and William Smith, Father Edmund has been and continues to be a guiding force in Eternal Life. We are extremely blessed that he is now President of Eternal Life, and are most grateful for his remarkable spirituality, his leadership and his friendship.
Possessing the gift of a remarkably strong and vibrant voice, and a matching personality, Father Edmund will immediately cause an audience to sit up and take notice when he begins to speak. But his booming presentation is matched and exceeded by his eloquence in teaching the faith. His love for his heavenly Mother is beautiful and opens our eyes to the great gift that she is to us from God. His devotion to Jesus in the Holy Eucharist enlightens all to a deeper love and devotion to the Real, True, Eucharistic Presence of Jesus Christ; Body, Blood, Soul and Divinity. Father encourages the Sacrament of Penance and Reconciliation, and draws us to a deeper knowledge of and love for the angels and saints.